My tools •
June 12, 2019
modified on June 25, 2019
Off on vacation?
Access your money easily...fee-free*!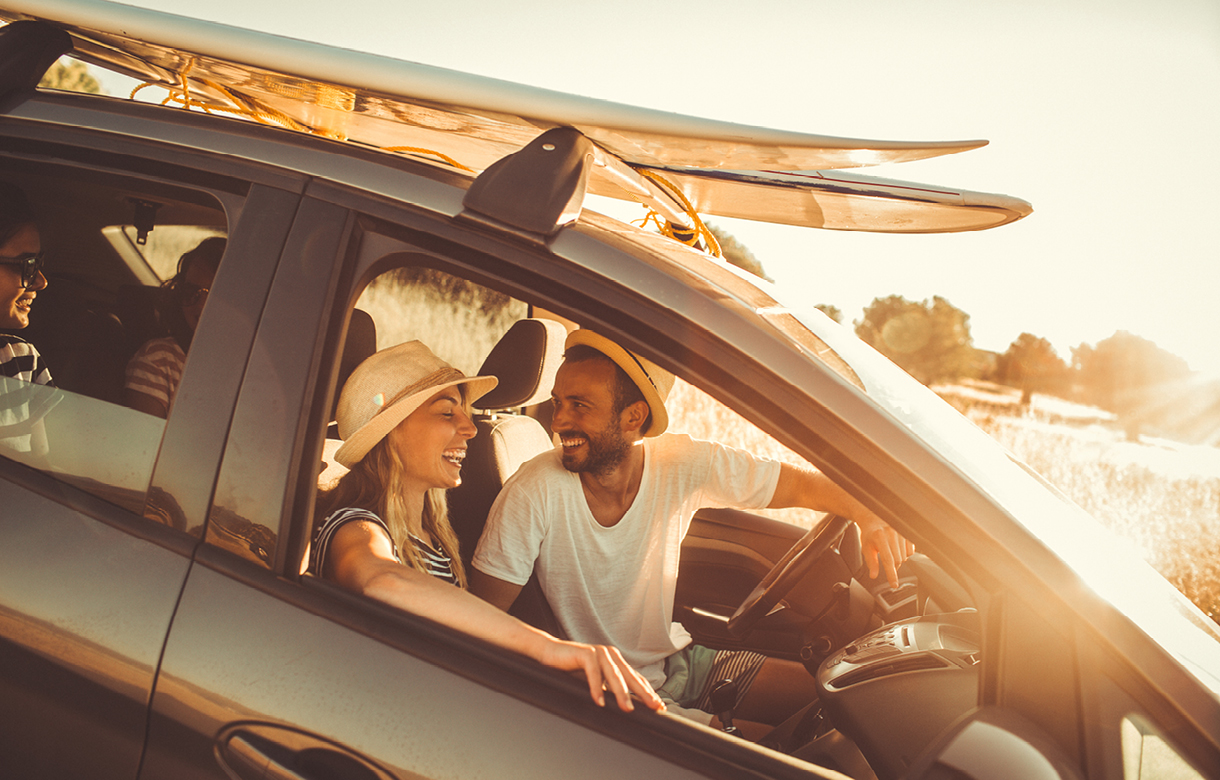 Many of us find it more convenient not to carry cash. When we're travelling, though, it can be useful to have a little money at hand, so it's good to be able to access a banking machine no matter where you are! But everyone's a little weary of paying additional fees to withdraw cash.
Did you know that as a Laurentian Bank customer, you can use many ABMs across Canada and the US without paying a fee*? You can! To make life simpler, the bank is offering you access to THE EXCHANGE® network.
THE EXCHANGE® is a group of several financial institutions that have agreed to allow their cardholders to use each other's banking machines as if they were their own. Everyone benefits! That means you have fee-free* access to 3,300 banking machines across Québec and Canada and 500,000 in the United States. This will save interbank fees on every transaction while you're on the road, an average savings of $3 per transaction.
How to use it
In the United States: Find automatic banking machines bearing the Accel® logo to make fee-free* withdrawals anywhere in the United States.
In Canada: Look for the EXCHANGE® logo to find participating ABMs. Just use your Laurentian Bank card for your transaction. It's easy and economical!
Download the EXCHANGE® app
to find the ABM nearest you.
+ Legal Notices
THE EXCHANGE® and Accel® are registered trademarks of Fiserv, Inc., licensed for use in Canada by FICANEX Services Limited Partnership.
* There are no fees to use an automated banking machine in THE EXCHANGE Network for your Laurentian Bank accounts. Additional transaction fees apply (withdrawal and/or transfer). If you have a plan and have not exceeded the number of monthly transactions included, or if you are a personal banking customer and have a minimum balance of $3,000 in an active Operations Account, no transaction fees will apply. Please refer to the "My Money" guide (personal banking customers) or the "My Transaction Tools" guide (business customers).
Additional fees may be applied to transactions, depending on the ABM used. Use the Accel Locator to find an ABM.
The articles on this website are for information purposes only. They do not create any legal or contractual obligation for Laurentian Bank and its subsidiaries.
These articles do not constitute financial, accounting, legal or tax-related advice and should not be used for such purposes. Laurentian Bank and its subsidiaries may not be held liable for any damage you may incur as part of such use. Please contact your advisor or any other independent professionals, who will advise you as needed.
The articles may contain hyperlinks leading to external sites that are not managed by LBC. LBC cannot be held liable for the content of such external sites or the damage that may result from their use.
Prior written consent from the Laurentian Bank of Canada is required for any reproduction, retransmission, publication or other use, in whole or in part, of the contents of this site.