My advice •
January 20, 2022
modified on January 25, 2022
As a responsible citizen, buy local
Discover how to contribute to the growth of the local economy.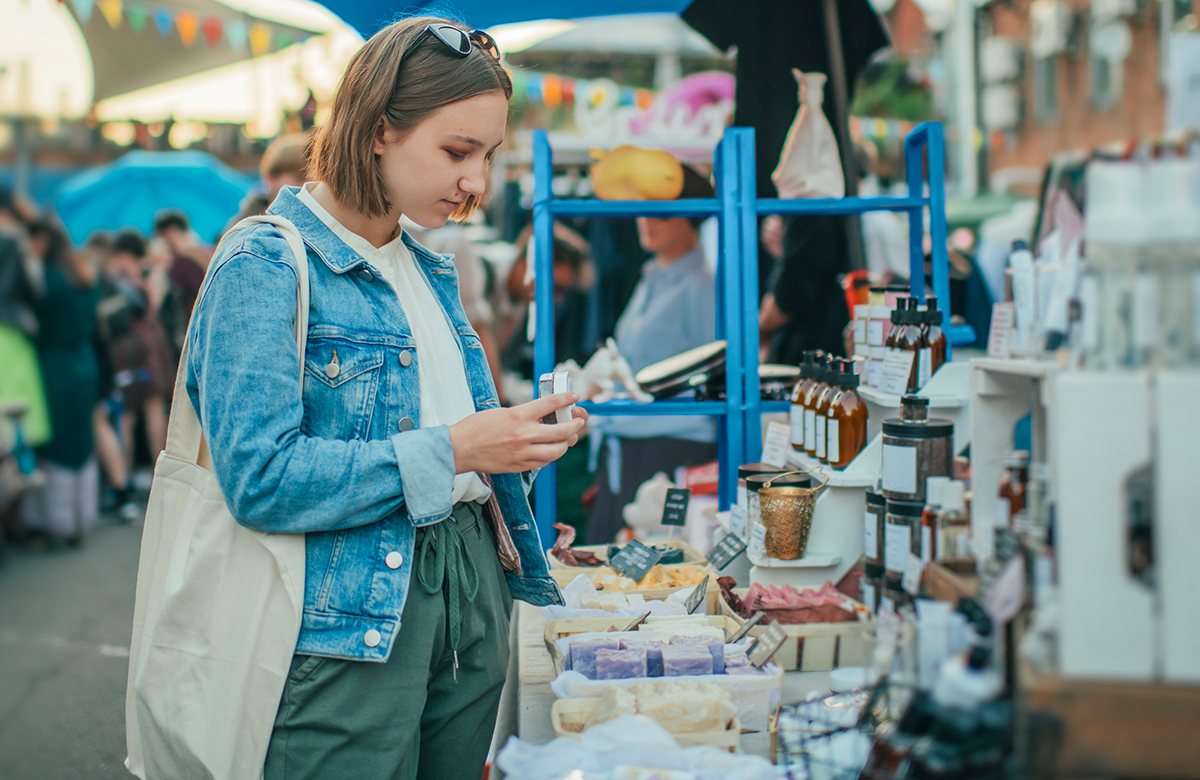 If there is one thing that the pandemic has taught us, it is that buying local is of great importance for a healthy economy. Let's only think of the Panier Bleu initiative presented by the provincial government, which encouraged Quebecers to support local businesses, to ensure their sustainability during this difficult period, but also to offer consumers easy access to products and services by grouping them under a single online shopping platform. The call was made and hopefully this trend will continue to grow in popularity. Because buying local has multiple benefits, and that's what we're going to discuss in this article.
A win-win situation
Whether it's fresh produce grown with care by a family farmer in Saint-Rémi, unique jewelry created by a Laurentian jeweller or custom-made wooden furniture from a workshop in the Eastern Townships, every time you buy a local product, you're doing something that often has a greater impact than you'd think. Here are a few examples:
We are doing something for the environment.

When you buy a product from a local store or one made in Quebec or Canada, it travels much less and therefore generates little or no greenhouse gas emissions. It reduces the ecological footprint of the purchasing process.

We contribute to the local economy.

Encouraging local businesses is a good way to boost the economy of our neighbourhood or city, in addition to contributing to the creation of local jobs. Let's not forget that the more we consume locally, the more likely it is that the prices of locally sourced products will decrease.

We create links with local people.

The offer of regional products allows us to discover the richness, talent and expertise of Quebec and Canadian companies.

We opt for originality, diversity and freshness.

Quebec products often reflect the creativity that reigns in Quebec, our concern for the environment, but also our demands for freshness. The strawberries that grow on our land will have had the chance to ripen perfectly in our fields and to be picked and available on our shelves the same day, unlike those that have to travel miles by truck or across the seas. What a joy it is to eat seasonal foods that come from our own backyard!
From basket to wallet
Did you know? Supporting the local economy isn't just about buying consumer products and services. You can also make smart choices when it comes to your finances. For example, at Laurentian Bank, we offer two ActionGICs that support Canadian businesses and the Quebec economy: the Canadian Sustainability ActionGIC and the Quebec Performance ActionGIC.1
Buying local is another step in the right direction to be a responsible citizen. If everyone does their part by making the right choices, the entire local economy will benefit. Would you like to learn more about responsible investing and become a wise investor? Talk to an advisor who can guide you in diversifying your portfolio with sustainable investments.
+ Legal Notices
Laurentian Bank: Laurentian Bank of Canada.
Laurentian Bank GICs are also available in LBC Financial Services Inc. (LBCFS) accounts. New investment accounts are offered by LBCFS, which is a subsidiary and a wholly owned and legal entity distinct from Laurentian Bank.
The articles on this website are for information purposes only. They do not create any legal or contractual obligation for Laurentian Bank and its subsidiaries.
These articles do not constitute financial, accounting, legal or tax-related advice and should not be used for such purposes. Laurentian Bank and its subsidiaries may not be held liable for any damage you may incur as part of such use. Please contact your advisor or any other independent professionals, who will advise you as needed.
The articles may contain hyperlinks leading to external sites that are not managed by LBC. LBC cannot be held liable for the content of such external sites or the damage that may result from their use.
Prior written consent from the Laurentian Bank of Canada is required for any reproduction, retransmission, publication or other use, in whole or in part, of the contents of this site.