Registered Education savings plan (RESP)
"Will I have the means to support my children's post-secondary studies?" Many parents ponder this dilemma. Did you know that the Registered Education Savings Plan (RESP) was created specifically to help support a child's educational expenses? Good news: this type of investment
grows tax-free and is further encouraged with a government grant.

WHAT IS AN RESP?

Created by the federal government, the RESP is a savings plan designed to help you finance the post-secondary education of your children or grand-children, of a sibling or a friend. You can even contribute to an RESP to finance your own education.

The contributor (the subscriber) makes contributions which generate earnings and attract a government grant. When the study period begins, the beneficiary will then receive a substantial amount to settle various educational expenses. All earnings generated from an RESP are exempt from
income tax, until funds are withdrawn to settle the beneficiary's tuition fees.
Earnings from contributions and grants invested in an RESP grow tax-free until the beneficiary begins post-secondary studies. The graph clearly illustrates the advantages. In fact, a monthly investment of $110 over 18 years yields $18,496 more when invested in an RESP.
AMOUNT SAVED AFTER 18 YEARS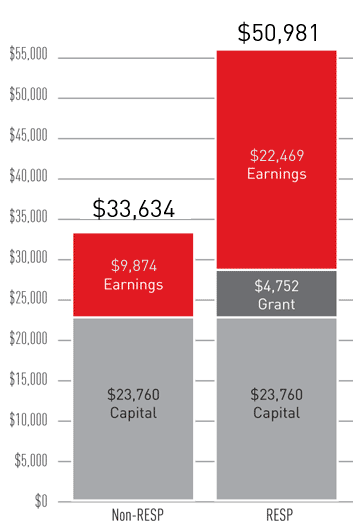 $18,496 Advantage RESP
Example based on:
Monthly contributions of $110 at the beginning
of each month;
Average annual rate of return of 4.65%
These results only include the basic subsidy.

There are two types of RESPs: family and individual. The key differences are mainly in the number of authorized beneficiaries and their eligibility as well as the timeframe for contributions. For more details, refer to the table below outlining the characteristics of the plan.
ADVANTAGES
The RESP allows you to contribute up to $50,000 per beneficiary (over the term of the plan).
The Canada Education Savings Grant (CESG) is money the Government adds to your child's Registered Education Savings Plan (RESP) to help their savings grow. To receive the Canada Education Savings Grant (CESG), a Registered Education Savings Plan (RESP) must have been opened for the child. (Anyone can put money into an RESP for any child; you do not have to be the child's parent.)
The basic CESG provides 20 cents on every dollar you contribute, up to a maximum of $500 on an annual contribution of $2,500. If you cannot make a contribution in any given year, you may be able to catch up in future years. See Carry Forward Room. This grant is available up until the end of the calendar year in which the child turns 17.1
Depending on the child's primary caregiver's net family income, he or she may also be eligible to receive the Additional Canada Education Savings Grant (A-CESG). This grant adds an additional 10 % or 20 % to the first $500 put into the RESP each year. To find out more, visit the Additional Canada Education Savings Grant page.
The Canada Learning Bond is money that the Government of Canada deposits into a Registered Education Savings Plan (RESP) to help you save for a child's education after high school. The total amount the Government deposits can be up to $2,000. Applying for and receiving the Canada Learning Bond will not affect any other benefits that you or an eligible child receives. Conditions apply.
Mutual funds offered by LBC Financial Services, a subsidiary of the Laurentian Bank, are eligible to the Laurentian Bank ESP. This guarantees excellent diversification of your investment and expert advice from recognized portfolio managers.
You also have the flexibility to invest as little as $50 per month thanks to our Periodic Savings and Investment Plan.
CHARACTERISTICS
Eligible investments

Mutual funds*
LBC Financial Services offers five predetermined mutual fund portfolios for RESPs, designed to suit your investor profile: prudent, conservative, balanced, dynamic and bold.

Contributions

lifetime limit of $50,000.
Contributions belong to the subscriber.

Canada Education Savings
Grant (SCEG)

Equivalent to 20% of paid contributions, up to a maximum $7,200 per beneficiary for life ("for life" means 17 years).

Beneficiaries
Family RESP:


You may designate one or several beneficiaries.
Each beneficiary must be blood-related or legally adopted, and must
be aged under 21 when designated.


Individual RESP:


You may designate one beneficiary, including yourself.
There are no restrictions of age or relationship for the beneficiary.

Timeframe for contributions
Family RESP:


Contributions must be terminated when the beneficiary reaches
21 years of age.

Individual RESP:

Contributions can be made until the 22nd year of the plan, inclusively.

Educational Assistance Payment (EAP)

A payment is made to a beneficiary when post-secondary studies begin.
The EAP includes the grant and accumulated investment earnings.
Limit of $5,000 during the first 13 consecutive weeks of studies and no limit afterwards.
EAP payments must be declared as taxable income in the year they are received.
Contributions remain the property of the subscriber, who may reclaim them once the first EAP is paid out.

Options if the beneficiary does not pursue
a post-secondary education
The subscriber may:

Designate a new beneficiary.
Dissolve the RESP as follows:

Contributions are returned to the subscriber.
Grants are reimbursed to the government.
Accumulated earnings are remitted to the subscriber as an Accumulated Income Payment (AIP).

Accumulated Income Payment (AIP)

An AIP is comprised solely of earnings generated from the savings plan.
An AIP is paid once all the conditions outlined below are met:

The person receiving the AIP is the subscriber;
The subscriber resides in Canada;
The RESP has existed for at least 10 years;
Each beneficiary for whom the subscriber has made contributions has reached the age of 21 and is not eligible to receive Education Assistance Payments or is deceased.

The subscriber has the option to transfer the AIP to an RRSP, up to
a maximum limit of $50,000 and provided there is still contribution room.
The subscriber has the option to transfer the AIP to an RRSP, up to
a maximum limit of $50,000 and provided there is still contribution room.
If the AIP is not transferred to an RRSP, it will be subject to a double
taxation.

Summary

This investment product is suited for you if:
You wish to prepare for the postsecondary education of your children or grand-children, of a sibling, a friend or yourself;
You wish to take advantage of government grants;
You seek an investment product with tax-sheltered growth.

This investment product is not suited for you if:
Your beneficiary does not expect to pursue post-secondary education and you have no other potential beneficiary.
You anticipate the need to access your capital on short notice.



Legal notice
1. Restrictions apply to beneficiaries aged 16 and 17.
* Mutual funds are distributed by LBC Financial Services Inc. ("LBCFS"), a subsidiary of Laurentian Bank of Canada ("Laurentian Bank"). LBCFS is a corporate entity separate from the Laurentian Bank, LBC Trust, and from any mutual fund company. The registered LBCFS representative is also a Laurentian Bank employee. Accordingly, LBCFS's accountability is limited to the conduct of its representatives in the performance of their duties for LBCFS.
Important information is contained in the relevant fund facts. We ask that you read this (these) document(s) carefully prior to investing. For more information with regards to the funds traded, please refer to the funds simplified prospectus. To obtain your copy of the fund facts and/or the simplified prospectus concerning the fund(s) you have chosen, please contact a LBCFS representative at the Laurentian Bank branch.
Commissions, trailing commissions, management fees and other expenses all may be associated with mutual fund investments. Mutual funds offered through LBCFS are not insured by the Canada Deposit Insurance Corporation or Canadian Securities Administrators or by any other government deposit insurer. Furthermore, these funds are not guaranteed in whole or in part by the Laurentian Bank, LBC Trust, or any mutual fund company.
Nothing guarantees that the fund will maintain its net asset value per unit at a constant amount or that the full amount of your investment in the fund will be returned to you. Mutual fund values change frequently and past performance may not be repeated.