Dreaming of the trip of a lifetime? Planning to purchase that cottage? Laying a brand-new patio next year? Then the right move could be to get your money earning for you in a Laurentian Bank High Interest Savings Account (HISA), bringing your dreams that matter most closer within reach.
With its competitive interest rate,1 a HISA may be the right savings solution for you. That said, you probably have lots of questions. We've asked Laurentian Bank Personal Banking Advisor, Saadia Bahsis, to answer them for you.
Is a HISA a safe investment?
100%, since your returns are protected from the ebbs and flows of markets. That means it's never a bad time to save—the earlier you start, the more you earn.
Plus, up to $100,000 of what you save is covered by the Canadian Deposit Insurance Corporation (CDIC).2
What happens if I need to make a withdrawal?
You never lose access to your money, especially when you need it most. Simply transfer funds from your HISA3, to your chequing account.
How is interest paid out?1
Interest is calculated using the minimum daily balance of your account for 30 days and it's paid monthly.
Let's say you've kept $1,000 in your HISA all September long. At the end of the month, you would receive a payment of $2.47, given your HISA's 3% annual interest rate. The following month, your minimum balance would increase to $1,002.47.
As your returns grow with the capital you invest, every dollar saved is an opportunity to earn more.
To calculate monthly interest on your own, all you have to do is divide the annual interest rate by 365 days (1 year), then multiply that number by your account balance (1,000 in this example) and once again by 30 (1 month), like so: (0.03 / 365) x 1000 x 30.
Are promotional interest rates always your best bet?
The following chart demonstrates how crucial calculating annual interest is to finding out which rate really earns you more.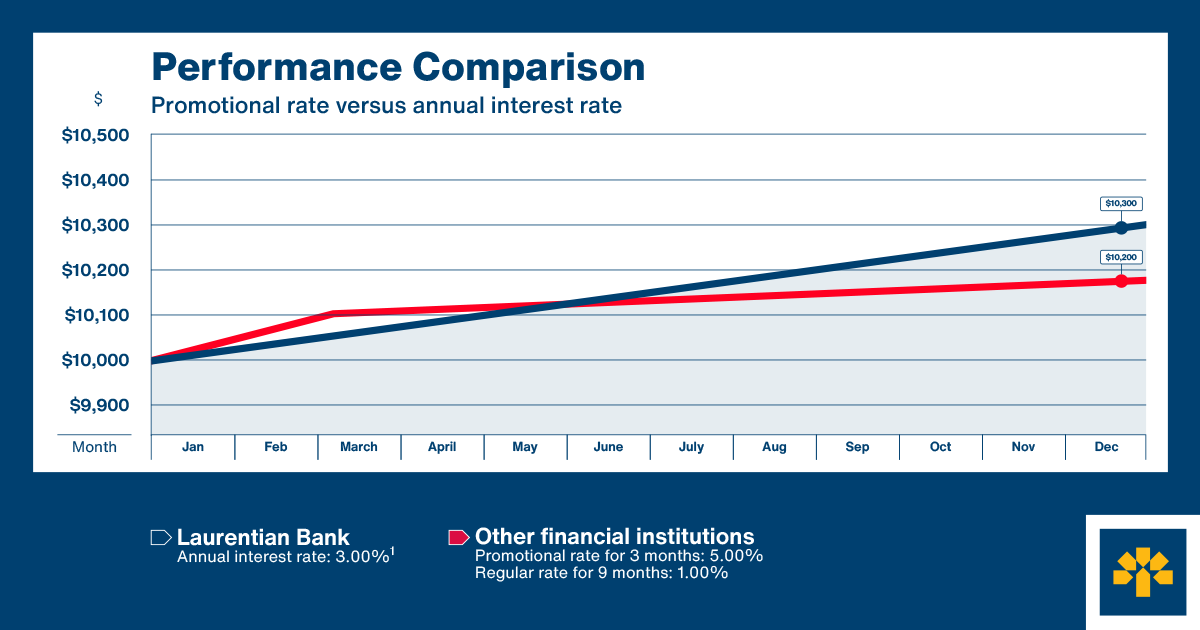 How can I save faster?
Two words: automatic savings. Step one: draft a budget that clarifies your income and expenses. After you know how much money is coming in and going out, you'll know exactly how much you can transfer to your HISA every month.
Setting up recurring transfers can help you grow your savings effortlessly. Already have a Laurentian Bank chequing account? Then you're just minutes away with LBCDirect.3
What kinds of transactions can I do with a HISA?
Unlike a chequing account that can service your everyday banking needs, a HISA is more like a piggybank—it's all about savings. So when you open a HISA, no card will be issued. That said, you can use it to transfer funds between accounts, financial institutions, and via Interac e-Transfer®.3,4
Can I open a HISA with my partner?
Totally, especially since it's such a great way to save for that cruise you've been dreaming of for so long. If you're more inclined to keeping your feet on dry land, opening a joint HISA can also help you budget for property-related expenses, or start a rainy day fund for life's little surprises.
To open a joint account, both you and your partner must be current Laurentian Bank customers. Simply stop by your branch to see your advisor.
Are the returns generated by my HISA taxable?
Since our HISA is considered a non-registered savings account, annual interest is considered taxable. Tax slips are issued when the annual interest credited exceeds $50. It is your responsibility to declare all interest income for tax purposes.
I don't have a lot of cash on hand. Can I invest in a HISA?
Since there's no minimum balance required, the interest clock starts ticking with the first dollar saved, which makes a HISA a fantastic option for every budget.
Can I open an account online?
Yes, in 5 minutes or so. You can even open a chequing account online. Plus, with LBCDirect online banking and our mobile app, you can do most of your everyday banking using your computer, tablet, or phone.
Laurentian Bank: Laurentian Bank of Canada.
Some terms and conditions apply. The annual interest rate is subject to change at any time. Rates in effect are: Balance of less than $100,000: 3.00%. $100,000 to $5,000,000: 4.00%. $5,000,000.01 and over: 1.00%. Simple interest is calculated on the daily minimum balance and is paid monthly based on the tiers. Laurentian Bank reserves the right to change the annual interest rate by posting a general notice in each of its branches and on the current rates page.


This product is eligible for deposit insurance from the Canadian Deposit Insurance Corporation (CDIC), up to the maximum limit for coverage from the CDIC, and subject to applicable conditions. For more information about CDIC deposit protection, visit cdic.ca.


For more information on this product and banking rates, please consult

My Money

guide online or in-branch.



Interac

e-Transfer is a registered trademark of Interac Corp. Used under licence.
The articles on this website are for information purposes only. They do not create any legal or contractual obligation for Laurentian Bank and its subsidiaries.
These articles do not constitute financial, accounting, legal or tax-related advice and should not be used for such purposes. Laurentian Bank and its subsidiaries may not be held liable for any damage you may incur as part of such use. Please contact your advisor or any other independent professionals, who will advise you as needed.
The articles may contain hyperlinks leading to external sites that are not managed by LBC. LBC cannot be held liable for the content of such external sites or the damage that may result from their use.
Prior written consent from the Laurentian Bank of Canada is required for any reproduction, retransmission, publication or other use, in whole or in part, of the contents of this site.