My 100% Advice bank •
October 04, 2019
modified on March 08, 2021
How to protect computers and mobile devices
Tips to protect yourself online (1/3)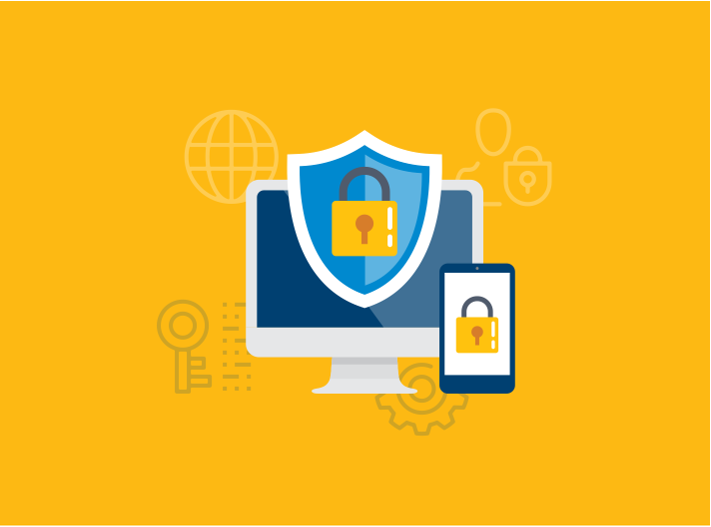 At a time when we are all more connected than ever, cyber security is essential. As the Canadian Bankers Association states, we can all take simple measures to protect ourselves from cyber threats.1 This, the first of a three-article series on the topic, focuses on what to do to protect your devices.
Protect your computer
Install the most recent operating system and keep it up to date. Make sure that your security software (anti-virus, anti-spyware and firewall) is always running and up to date as well. Log out of websites instead of just closing your browser.
Protect your mobile devices
A proactive approach is the best way to limit risks, especially in the case of loss or theft:2
Use the password feature

to unlock your device, select a fairly complex password, and adjust your settings so that your device locks automatically after a few seconds of inactivity.

Never save on your cellphone

your banking password or the PINs for your debit and credit cards.

Be very careful

when using public Wi-Fi and when downloading apps.

Log out

of websites instead of just closing your browser.

Use your smartphone's app

for locating your device or remotely deleting your personal information.
If your cellphone is lost or stolen, keep your accounts secure by

immediately contacting

your mobile provider to deactivate your account and change your online banking login information.
Taking these measures will help you reduce the risks for your computer as well as your phone and tablet.
In the same series
+ Legal Notices
The articles on this website are for information purposes only. They do not create any legal or contractual obligation for Laurentian Bank and its subsidiaries.
These articles do not constitute financial, accounting, legal or tax-related advice and should not be used for such purposes. Laurentian Bank and its subsidiaries may not be held liable for any damage you may incur as part of such use. Please contact your advisor or any other independent professionals, who will advise you as needed.
The articles may contain hyperlinks leading to external sites that are not managed by LBC. LBC cannot be held liable for the content of such external sites or the damage that may result from their use.
Prior written consent from the Laurentian Bank of Canada is required for any reproduction, retransmission, publication or other use, in whole or in part, of the contents of this site.