My advice •
June 14, 2019
modified on October 07, 2020
Looking to make home improvements in line with your taste?
Plan your project the smart way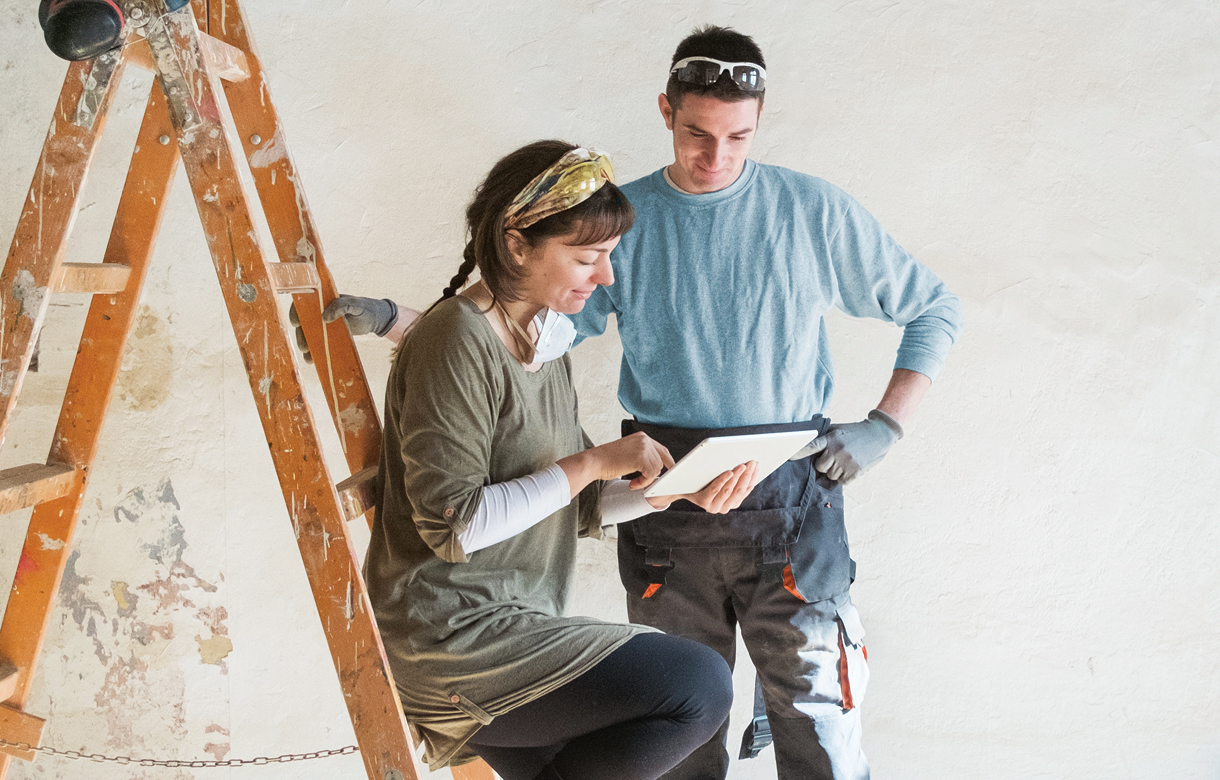 The days are getting shorter and the temperature's getting cooler… yes, fall has officially arrived! It's the season when you want to spend more time at home—the perfect time to give your interior a new look. Looking to renovate your home or cottage but don't know where to start? We hear you. There are so many things to consider before you can make informed decisions about your plans. So before you even start thinking about renovating and possible financing solutions, take a few minutes to evaluate your financial and personal situation.
Plan your project the smart way

Analyze the scope of work after receiving a number of bids from different contractors. The cost and extent of work will often point to the best financing solution. This step is obviously crucial, since it helps determine your financing requirements. You need to share this information with your advisor.
Evaluate your repayment capacity and review your budget with your advisor to ensure you can maintain your lifestyle while meeting your various financial commitments. Drawing up a budget lets you determine whether your personal income is high enough to continue to meet your savings goals, pay your various debts and aptly handle unforeseen events. By planning and organizing your finances effectively, you also reduce your stress level.
Take into account your experience. Is this your first renovation project? Or are you experienced in the use of financing for your renovations? Depending on your comfort level in this matter, there are a number of interesting solutions. Also, don't forget to consider your personal and mortgage situation. Don't forget! A good moment to visit you advisor and discuss your plans is at the renewal of your loan. With your advisor, you can look at whether your residence has gained enough value to free up equity to finance your projects. An expert's advice can offer solutions that you may not have thought of.

Choose your financing solution wisely

Remember that the best financing option is different for everyone and is based on YOUR needs and YOUR situation.

Situation 1. Small- or medium-scale renovation project in mind?

For example: Changing a door or windows

Personal loan
To lend you a hand with this type of project, you can apply for a personal renovation loan, which carries a relatively attractive interest rate and is especially designed for this sort of project. The advantage of a personal loan is that it can be repaid over a short period through with fixed payments. You agree to pay a predetermined amount of capital and interest calculated for the desired term.†
Personal line of credit
This is a highly flexible solution, because once your loan application is accepted and your credit limit authorized, you can make use of your personal line of credit as you please. It does not have a repayment term. However, to use it wisely, you must be disciplined and make regular payments. Your credit rating is directly influenced by your credit behaviour. You must therefore make sure to make reasonable use of your line of credit for your minor projects.

Situation 2. You own a property with equity

Did you know that your property can give you access to low-cost financing?
For example: Expanding or adding a garage

Home equity line of credit and mortgage loan
Like the personal line of credit, a home equity line of credit can be a flexible and attractive financing method, since it costs nothing when not used. Interest applies only on amounts used. This solution is highly attractive for owners who want to finance projects that do not affect the property's structure. It carries a lower interest cost than personal financing, because the line of credit is secured by the property.
Is your project completed? Transfer your line of credit into a loan
Once your project is completed, you can convert the balance of your home equity line of credit into a new mortgage loan. But why do this? To further reduce your interest cost. Indeed, as interest rates on a mortgage loan are generally lower than on a home equity line of credit, this is an advantageous solution for your portfolio. A mortgage loan is also a secure solution for your budget, since you pay a fixed amount of capital and interest over a set amortization period.
Homeowner's Kit
Are you an experienced borrower with a proven track record in managing your income and expenses? Do you know how to manage credit wisely? If you have already repaid at least 20% of your home's current market value, you can use your principal residence to carry out new projects. The Homeowner's Kit is a solution that brings together different mortgage financing products: lines of credit and loans. A financing envelope is establish based on the capacity and quality of the borrower (you!). Approval is required to obtain available credit in an amount equal to or greater than the financing required for a specific project. As a result, an amount is available for your future needs and to set your mind at ease.

Situation 3: Are you about to buy a property?



"Purchase with renovation" mortgage loan
If you are already considering work on a property that you are about to buy, this financing option incorporates the cost of possible renovations in the initial financing. You can therefore amortize the repayment of your renovation project over several years. As certain more specific conditions apply with this option, make sure to talk with your advisor to determine if this is the choice for your project. For example, if you buy with a minimum downpayment and are already planning to do renovations at the time of purchase, this product could be ideal for you.

Protect yourself from unforeseen events

If you need credit to carry out your renovations, avoid risks and protect yourself from unforeseen events with credit insurance (life or disability insurance). By enrolling, you guarantee that you and your family can support your needs in case of unforeseen events.

Finally, don't forget that the key to good financial health is to stay within your limits and capacity to repay!

Something to consider: save through subsidy programs

To obtain attractive savings, learn about government and municipal subsidy programs that could apply to your situation. For example, the Programme Rénovation Québec provides grants to residential building owners who want to renovate. If your work is intended to improve your home's energy efficiency, have a look at the Rénoclimat program to check the eligibility conditions.
To a successful renovation project!
+ Legal Notices
The articles on this website are for information purposes only. They do not create any legal or contractual obligation for Laurentian Bank and its subsidiaries.
These articles do not constitute financial, accounting, legal or tax-related advice and should not be used for such purposes. Laurentian Bank and its subsidiaries may not be held liable for any damage you may incur as part of such use. Please contact your advisor or any other independent professionals, who will advise you as needed.
The articles may contain hyperlinks leading to external sites that are not managed by LBC. LBC cannot be held liable for the content of such external sites or the damage that may result from their use.
Prior written consent from the Laurentian Bank of Canada is required for any reproduction, retransmission, publication or other use, in whole or in part, of the contents of this site.