My tools •
August 14, 2019
modified on October 28, 2019
Online fraud: The basics
Do you know how to spot a fraud attempt?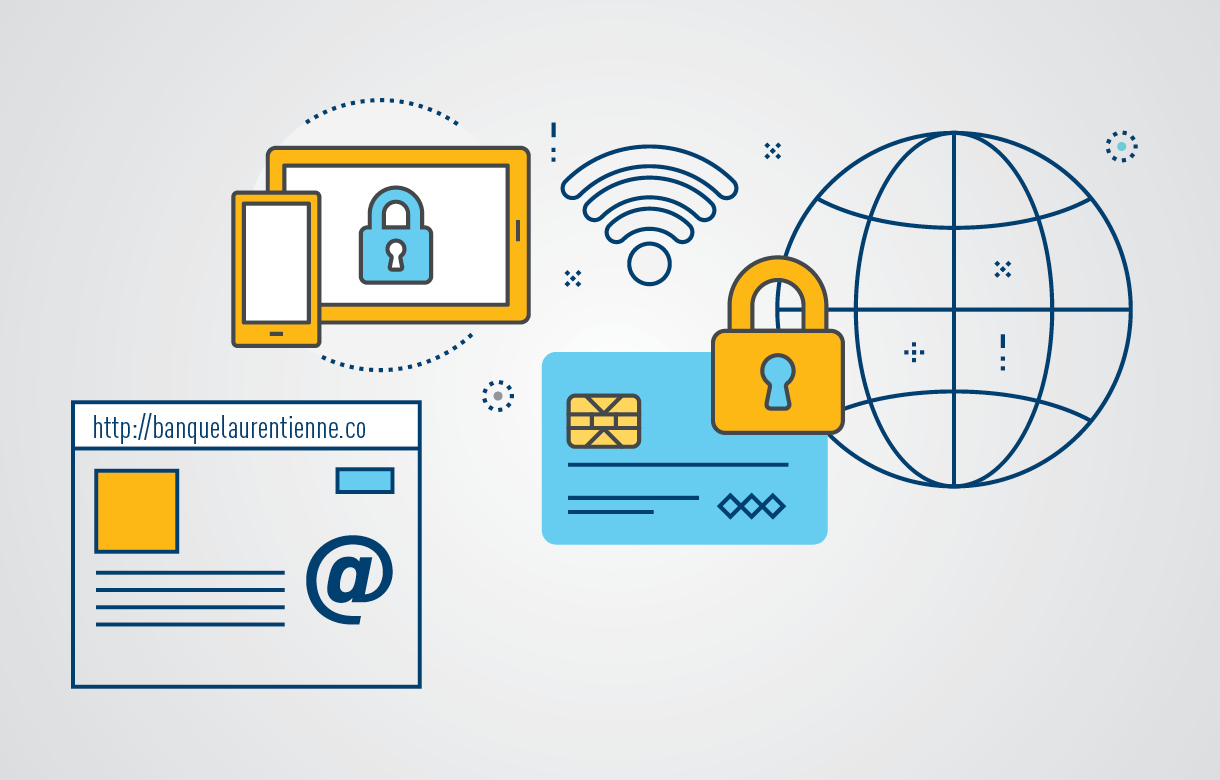 The increasing number of online transactions leads many consumers to face a whole new reality. Most of us know someone who has been a victim of fraud or attempted fraud. A better understanding of the different types of fraud is the first step to better protecting ourselves. Here are few concepts about fraud and cyber security that will help you avoid unfortunate situations.
Fraud through email and text message
How can you spot a fraudulent message?
Pay attention to the form of the communication. Although fraudsters have increasingly sophisticated methods, fraudulent emails may still contain obvious spelling, translation and/or formatting mistakes. They are also sometimes written in another language than the one the organization usually uses to communicate with you.
Check the link in the suspicious email by placing your mouse pointer over it to check the address to verify it is the organization's official website. As such, it is best to browse an organization's official website through a recognized search engine, making sure to validate the domain, rather than a link or a phone number in the email.
Beware of unsolicited emails and text messages in which you are asked to open an attachment or click a link, as these may contain viruses and spyware. Installing detection software is a good way of protecting your computer.
What about phishing?
This method used by fraudsters consists in sending fraudulent emails or text messages on behalf of a legitimate business, such as a financial institution, company or government agency, to prompt you to disclose confidential and banking information. This data is then used to misappropriate funds, make purchases with your credit cards or, in the worst cases, commit identity theft.
Important reminder
Laurentian Bank will never send you an email asking you to disclose personal information, such as your password, credit card number or your mother's maiden name.
Did you know? Canada's Anti-Spam Legislation (C-28), which went into effect on July 1, 2014, aims to protect consumers from junk mail. So beware of any email you get from a company to which you have not given your consent to receive emails. The sender may not be who you think it is, and this may be a phishing attempt.
Online transaction fraud
How can you make sure your online transactions stay secure?
Always do business through a secure website.
Never disclose any personal information by email.
Think you've been a victim of fraud?
Here are a few simple steps you can take:
Change your password.
Immediately communicate with your bank or credit card issuer.
Contact the Canadian credit bureaus. If the report shows creditors with whom you have never dealt before, contact these organizations and inform them that you have been a victim of identity theft.
Place notice on your credit report.
Want to learn more about fraud and how to protect yourself from it? Visit the Canadian Bankers Association and the Canadian Anti-Fraud Centre.
+ Legal Notices
The articles on this website are for information purposes only. They do not create any legal or contractual obligation for Laurentian Bank and its subsidiaries.
These articles do not constitute financial, accounting, legal or tax-related advice and should not be used for such purposes. Laurentian Bank and its subsidiaries may not be held liable for any damage you may incur as part of such use. Please contact your advisor or any other independent professionals, who will advise you as needed.
The articles may contain hyperlinks leading to external sites that are not managed by LBC. LBC cannot be held liable for the content of such external sites or the damage that may result from their use.
Prior written consent from the Laurentian Bank of Canada is required for any reproduction, retransmission, publication or other use, in whole or in part, of the contents of this site.