My 100% Advice bank •
June 25, 2020
An advisory team with a stronger presence
In branches this fall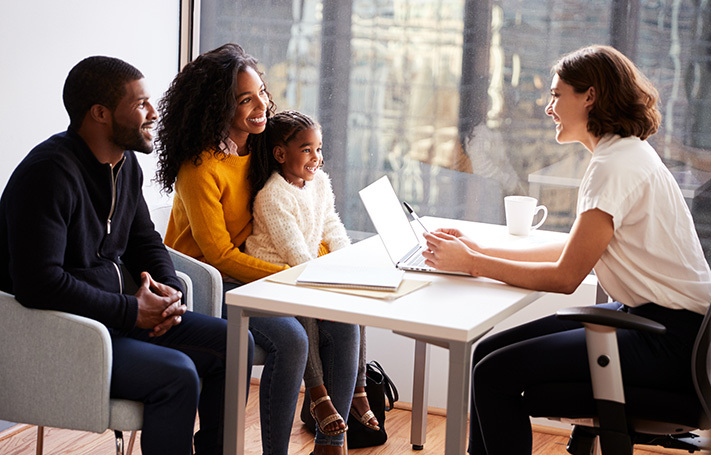 Over the past year, we adopted a 100% Advice model throughout our branch network which has enabled us to better meet your needs. Our goal is to make personal financial advice and best practices even more accessible. Case in point, this Fall, our advisory team will be growing with the addition of Customer Service Advisory Assistants!
With these new Advisory Assistants, we aim to strengthen the relationships we have with our customers, like you, by leveraging our expertise: high-quality financial advice. This means more support, better service and one-on-one assistance in carrying out your basic banking transactions. What sets us apart from other financial institutions is the Financial Health Assessment that we fill out with you. This first step helps us support you over the long-term and, ultimately, helps you improve your financial health.
This approach is already implemented in two points of service, and the experience for our customers is so conclusive that we decided to offer the same experience throughout our network.
These days, where you likely do your own day-to-day banking electronically, the value of advice takes a whole new meaning, and we believe everyone deserves to benefit from it. Adding Customer Service Advisory Assistants is another step towards a model focused on personalized advice.
We look forward to introducing our new Advisory Assistants to you!
If you wish to know more about this new role, visit our
career section
. You will see the very positive effect the role will have within our branches.
+ Legal Notices
The articles on this website are for information purposes only. They do not create any legal or contractual obligation for Laurentian Bank and its subsidiaries.
These articles do not constitute financial, accounting, legal or tax-related advice and should not be used for such purposes. Laurentian Bank and its subsidiaries may not be held liable for any damage you may incur as part of such use. Please contact your advisor or any other independent professionals, who will advise you as needed.
The articles may contain hyperlinks leading to external sites that are not managed by LBC. LBC cannot be held liable for the content of such external sites or the damage that may result from their use.
Prior written consent from the Laurentian Bank of Canada is required for any reproduction, retransmission, publication or other use, in whole or in part, of the contents of this site.