My advice •
March 09, 2022
Investment Series - ESG Investments: Investing Sustainably
What about the environment?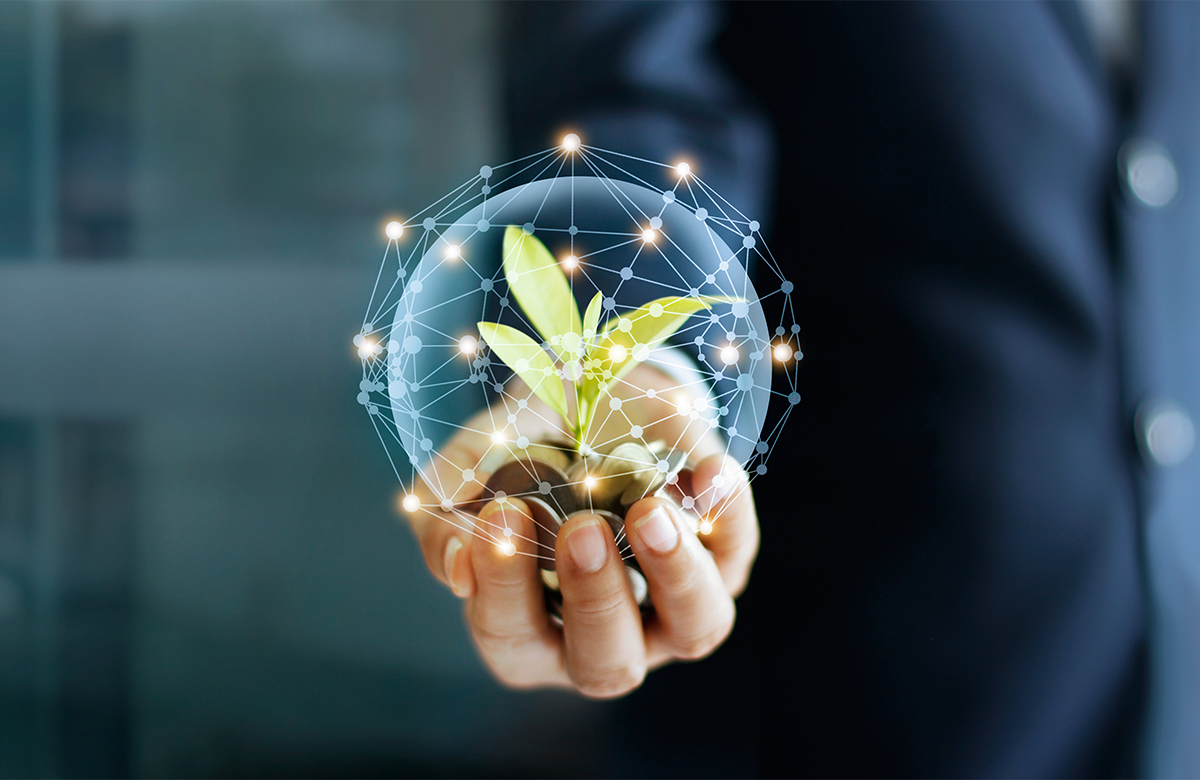 Would you like to invest your money in companies that are making a positive impact on people and the planet? ESG investing is for you. The letters ESG refer to the three types of criteria that are taken into account when choosing a sustainable investment strategy: environmental (E), social (S) and governance (G) factors. Not only does this type of investment provide diversification, but it also allows for responsible investing. Explore our three-part series on the three factors.
Overview of the "E" factor
In this article, we will take a closer look at environmental (E) factors. When we talk about environmental factors, we think, for example, of biodiversity, CO2 emissions, or the management of natural resources. So, before potential conscientious investors invest in a company, they will check, for example, whether the company produces sustainability reports, how it manages energy or treats animals, to what extent it limits the use of chemicals or pollutants, whether it seeks to reduce its greenhouse gas emissions or whether it uses renewable energy sources.
Companies that are integrating environmental factors may have activities that are looking to:1
Protect biodiversity
Use clean energy
Mitigate climate change
Limit greenhouse gas emissions
Conserve water
Reduce pollution
Limit the amount of waste produced
Use natural resources while restoring them, if possible, to their original condition
Do not contribute to rising sea levels
Investment fund managers will also consider whether environmental factors may impact a company's profitability in the future. Because, ideally, the goal is to choose investments that have higher return potential or lower risk based on ESG factors. Is the company located on contaminated land? Does its operation meet government environmental standards? These are all things to consider when looking at an investment that represents our values while having a measurable positive impact on the environment.
The urgency to act that drives investment
The environmental factor tends to be the most popular because a growing number of people are sensitive to climate issues, which are considered the greatest threat to global security.2
Global CO2 emissions have more than doubled since 19903
Depletion of water resources affects more than 40% of the world's population4
Three billion people lack access to clean fuels and cooking technologies5
Sustainable investment now exceeds $50 trillion worldwide6
Interest in sustainable investment is not a fad. Interest is growing. The proof? 51% of all professionally managed assets in Canada in 2020 used a sustainable investment strategy. And, according to one survey, 75% of Canadian investors want to learn more about sustainable investing.6
Does the environment mean profitability?
There is ample evidence that companies that implement sustainability initiatives tend to have better financial performance than those that do not. The potential for returns and growth from ESG products is, therefore, very attractive, as these statistics demonstrate: 7,a

Products to invest in, according to your values
At Laurentian Bank, we take ESG factors into account by offering a complete range of fundsb distributed by LBCFS, in partnership with Mackenzie Investments, such as:
Mackenzie Greenchip Global Environmental All Cap Fund (E Focus)
Mackenzie Greenchip Global Environmental Balanced Fund (E Focus)
Mackenzie Global Sustainable Balanced Fund (Fund focused on sustainable and responsible issuersc)
Mackenzie Global Sustainable Bond Fund (Fund focused on sustainable and responsible issuersc)
Mackenzie Betterworld Canadian Equity Fund (E, S and G Focus)
Betterworld Global Equity Fund (E, S and G Focus)
As we have seen, investing according to your values is possible and accessible. We are here to advise and guide you so that you can make the best choices based on what you value. Do not hesitate to consult one of our advisors, who will help you make informed choices to become a responsible investor.
Other articles that may interest you:
+ Legal Notices
Laurentian Bank: Laurentian Bank of Canada.
LBCFS: LBC Financial Services Inc.
Source external to LBCFG. The data presented was not collected or processed by LBCFG. The data presented may need to be put into context in order to understand its scope and limitation. Please refer to the external source. LBCFG assumes no responsibility for the methodology used to process this data and the conclusions drawn with respect to the performance of the funds.
The returns achieved by companies that implement sustainability initiatives may not be directly attributable to those initiatives alone. A multitude of factors can influence financial performance. For more information on the contribution of sustainability initiatives to a company's or fund's performance, please refer to the prospectuses and simplified prospectuses of the companies and funds in question.
For details on the use of ESG criteria, as well as the ESG strategies on which the various funds are focused and all other details relating to ESG criteria in the administration of each fund, please read the simplified prospectuses of each fund.
Fund not specifically focused on ESG criteria. Fund focused on sustainable and responsible issuers. Please refer to the fund's simplified prospectus for more details.

The mutual funds (Funds) are distributed by LBC Financial Services Inc. ("LBCFS"), a subsidiary of Laurentian Bank of Canada ("Laurentian Bank"). The funds offered by LBCFS are part of the Laurentian Bank Group of Funds managed by Mackenzie Investments. LBCSF is a legal entity distinct from Laurentian Bank and Mackenzie Investments. The licensed LBCFS Mutual Fund Representative is also an employee of Laurentian Bank. As such, LBCSF's liability is limited to the actions of its representatives in the course of their duties to LBCFS. The Fund Facts and Simplified Prospectus contain important information. We ask that you read these documents carefully before investing. Fund Facts can be obtained by contacting an LBCFS representative at any Laurentian Bank branch.
Commissions, trailing commissions, management fees and expenses all may be associated with an investment in a fund. Nothing guarantees that the fund will maintain its net asset value per unit at a constant amount or that the full amount of your investment in the fund will be returned to you. Mutual fund values change frequently, and past performance may not be repeated. This article is provided for informational purposes only and its contents should not be construed, considered or used in any way as financial, legal, tax or other advice. It does not create any legal or contractual obligation for LBC Financial Services, Inc. ("LBCFS"), Laurentian Bank or their affiliates. They shall not be liable for any damages or losses that may arise from any errors or omissions in the information or from any actions or decisions taken in reliance on such information. Please consult your advisor or other independent professional for advice based on your situation and needs.
The articles on this website are for information purposes only. They do not create any legal or contractual obligation for Laurentian Bank and its subsidiaries.
These articles do not constitute financial, accounting, legal or tax-related advice and should not be used for such purposes. Laurentian Bank and its subsidiaries may not be held liable for any damage you may incur as part of such use. Please contact your advisor or any other independent professionals, who will advise you as needed.
The articles may contain hyperlinks leading to external sites that are not managed by LBC. LBC cannot be held liable for the content of such external sites or the damage that may result from their use.
Prior written consent from the Laurentian Bank of Canada is required for any reproduction, retransmission, publication or other use, in whole or in part, of the contents of this site.