Don't wait! Offer ends September 13, 2013.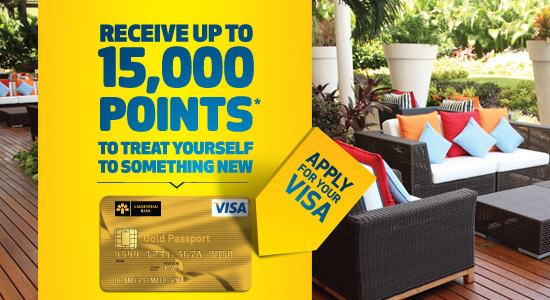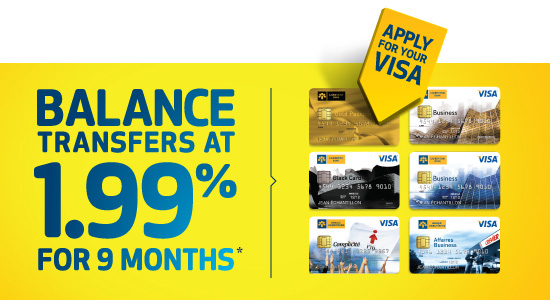 Become a VISA cardholder and benefit from a 1.99% promotional interest rate for a period of 9 months on balance transfers2.
VISA Gold Passeport
VISA Black Reward Me
Laurentian Bank VISA Complicité

Contact your branch Advisor, your Account Manager, or dial 1-877-522-3863 (toll-free) for more information.
Co-cardholder applications are not available online. Please drop by a branch.
*Eligibility conditions

1. Eligibility conditions: Subject to credit approval by the Laurentian Bank of Canada (hereafter "the Bank"). This offer is not valid if the client does not earn employment income or retirement income other than government-issued, or has filed for bankruptcy or been sued for insolvency. This promotion runs from May 1st to September 13, 2013. Please read the terms and conditions applicable to the card on the application form. A total of 15,000 points is awarded upon opening a new VISA Gold Passport account, and 5,000 points are awarded upon opening a new VISA Black Reward Me account or VISA Complicité. To benefit from this promotion, new cardholders must activate their card and charge a minimum of $500 to their account within 50 days of the date indicated on the letter accompanying the card. The awarded points can be redeemed for rewards only by the principal VISA cardholder. Cash advances, account fees (including annual or monthly fees, NSF fees, etc.), VISA cheques, balance transfers, automated banking machine transactions and all account credits are not considered qualifying purchases. The points will be awarded on the third Laurentian Bank VISA statement. Upon remitting the award, the account must be still open and in good standing (no overdue payments or overdraft). Use of the card shall constitute acceptance of the terms and conditions herein. This offer cannot be combined with any other offer. Laurentian Bank VISA annual or monthly fees are non reimbursable. The Bank reserves the right to modify or cancel this offer at any time without notice.
2. Please read the conditions of use printed on the back of the 1.99% promotional cheques. The Bank reserves the right to modify or cancel this promotion at any time without notice.