Food Processing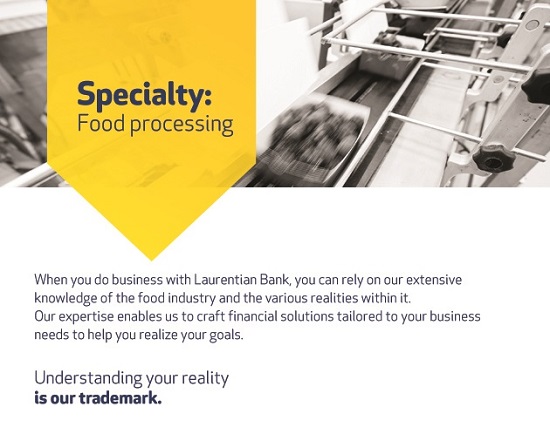 At Laurentian Bank, when it comes to supporting your business, we use our expertise to help drive your growth. Our specialized knowledge of your industry enables us to craft a financial solution tailored to your business reality and work with industry experts to act as a true partner. Our experience with key industry players and involvement with professional associations have given us the resources to help you realize your goals.
We're proud of our expertise in the food processing industry, where opportunities abound. The approximately 2,100 Quebec businesses in the food processing industry generate annual sales of $23.5 billion, nearly 7% of the province's GDP. Interestingly, 90% of these 2,100 companies are SMEs with significant growth challenges, the result of operating in an industry with 2% annual growth.
Whatever your situation, we understand that in an industry such as food processing, the acquisition of specialized equipment is a challenge that must be faced to improve the automation of your processes, increase your productivity and stimulate growth. Laurentian Bank offers several complementary services such as equipment financing to address your specific needs.
Benefits of doing business with our team
Account managers who care about the success of your project and are available throughout the entire investment cycle, including the post-implementation follow-up
A team recognized for its banking expertise and capable of advising you on the proper financing structure for your project
Account managers who understand your deadlines and have the tools and resources to act quickly
Financing solutions
Getting financing is no easy task. However, a well thought-out business plan managed by passionate, committed people will always find funding. Under these conditions, anything becomes possible. Add a new product line. Expand your operations. Acquire an existing business. Buy a property or the latest equipment.
To maximize your business and make it easier to manage, we have several financial solutions to offer you. Whether you're thinking short term or long term, we can tailor a solution to your needs.
Type
Solution
Uses
Short-term financing
Line of credit

Financing of Canadian or foreign accounts receivable
Inventory financing
Working capital

Long-term financing
Term loan
Acquisition of equipment

Replacement or modernization of equipment
Productivity improvements resulting from new technology
Financing of up to 100% of equipment cost

Revolving credit on capital assets

Use the equity in your assets at your convenience
Increased flexibility for cash flow fluctuations

Equity loan

Acquisition of competitors
Succession financing
Equity withdrawal

Term loan
Acquisition of real estate or land

Acquisition of real estate for an expansion or relocation
Purchase of land for a new building

Term loan
Leasehold improvements

Modernization of facilities
Renovation of existing facilities for an expansion or to meet quality standards (HACCP, GFSI, SQF)
The conditions that apply to each solution will depend on its use. For the main solutions, fees will be determined based on the value of your collateral, the financial health of your business, and its growth potential. Your capital, meanwhile, will be reimbursed based on a term related to the useful life of the assets you acquire.
Working in the food processing industry is an exciting challenge. This is especially true when you can count on a reliable and committed partner to advise and support you. At Laurentian Bank, we've understood this for a long time. Give yourself the right tools to exercise your profession on your terms. We'll be there every step of the way to help you build for the future.
Contact us today!
Éric Scalzo
Senior Account Manager
514 788-5880, ext. 286
eric.scalzo@laurentianbank.ca
Patrick Leblanc
Senior Account Manager
450 766-8966, ext. 70014
patrick.leblanc@laurentianbank.ca