The Super Statement
Bank account statement, RRSP statement, mortgage statement, line of credit statement… When it's time to analyze your global financial health, you will need to dig into loads of paper! Everybody dreams of having a single document that sums it all up and offers an overall view of all your Laurentian Bank assets.

WHAT IS THE SUPER STATEMENT?

The Super Statement gives you a broad view of your finances and helps you manage them more easily. It includes all information relating to your various Laurentian Bank products on one handy document : deposits, personal loans, mortgages, credit lines and cards and all your investments. Now you don't have to sort through bundles of papers or make complicated calculations to get the big picture on your financial situation.

The Super Statement is a complement to your personal account statement and it details all your banking transactions, your RRSP statement (Tactical or conventional) with the summary of your plans and all related operations as well as your mortgage statement. The Super Statement is provided free of charge on a monthly basis with the following banking plans: Transact without limit, Gold Service and Privilege Program. If you do not have one of this banking plan, you can ask for the Super Statement, monthly or quarterly, as you wish, for as little as $2.501 per statement.
Most of products and services

of the Laurentian Bank and its affiliates can be found on the Super Statement.
You can get your account balances in

Canadian or US dollars.

Your partner may include some or all of his/her Laurentian Bank products on your statement, giving you an even more detailed

financial situation

.
The Super Statement is mailed to you

as often or as seldom

as you like: monthly,

quarterly, twice or once a year

. Some banking plans have a predetermined frequency.
The Super Statement gives you an overall view of all the relevant information to help you accurately manage your finances:

The date at which the integrated statement was created;
A section describing all of your assets held with the Laurentian Bank:

your personal deposit accounts;
your registered investment portfolios (RRSP or RRIF) and your nonregistered investment portfolios (GIC, term deposit, non-registered Tactical).

A section describing all your debts held at the Laurentian Bank:

your personal loans (car, student, etc.);
your mortgage loan;
your line of credit;
your investment loans;
your Laurentian Bank credit cards.

Your investment and loan timetables;
The variable or fixed interest rate as a percentage;
Your service balance as at the date of the statement;
The number and coordinates of the branch where your accounts are kept.
EXAMPLE OF THE SUPER STATEMENT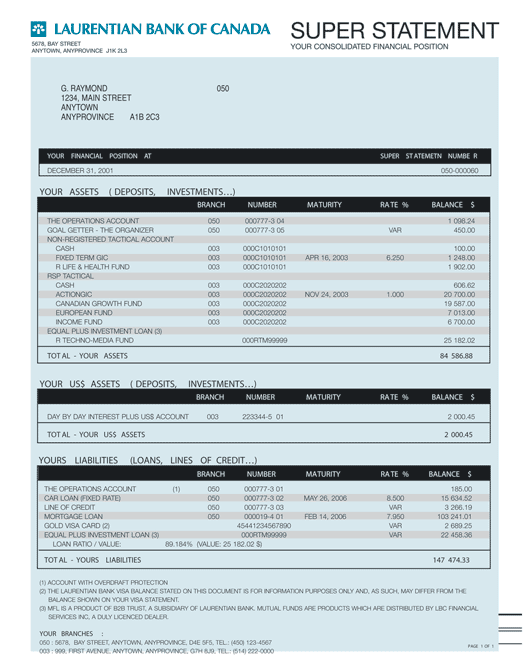 Summary

This product is suited for you if:
You hold many Laurentian Bank products;
You wish to keep a paper trail of all your long term products which is an excellent addition to our Internet service.
Legal notice
1. Fee schedule in force as of March 1, 2021. For further information about this service and banking fees, please refer to the My Money fee schedule guide.