My First Pay
It's official: you just got your first paycheque; you are now a "free agent"! A piece of paper has never looked so good.
Granted, after deductions at source, there may not be quite as much left as you expected. It's in your best interests to put that hard-earned money in a bank
ccount and spend it wisely. With all the temptations and payment methods out there, it's not always easy to stay level-headed.
If the temptations are too great, consult Credit, a Useful Tool for tips on how to use credit responsibly.
Opening My Bank Account
It goes without saying that your banking needs are very different than a retiree's, for example. That's why there are different types of accounts and different banking plans.
To help you choose the right one, here are some examples of profiles and account choices. This way, you can choose the product that is best adapted to your needs. You can also use our Choose the Plan That Suits You Best calculator.
Once you've made your choice, just follow the instructions to open your account.
Bank Online or Over the Phone
LBCDirect is an extraordinarily practical way to see if your paycheque was deposited or to conduct day-to-day transactions. It's available 24/7, by Internet or by phone.
You can also receive and pay your bills online through our LBCDirect Internet banking services, thanks to the Laurentian Bank epost™ electronic bill payment service. It's easy, free and secure!
These days, what with all the banking transactions that can be conducted at ATMs or online, you need passwords and codes to minimize the risk of fraud and keep your money safe. Check out our Security section to protect yourself!
Learn everything about your banking operations tools >>>
Drawing Up My Budget
There's nothing like a budget to give you an accurate picture of your finances and the responsibilities they entail. It puts you face to face with your consumer and spending habits. Plus, it's the best way to plan and set money aside.
Draw Up Your Budget in Three Easy Steps
List your income and expenses.
Add them up separately.
Compare the totals to see if they balance each other out or if you're in the red.
Use our budget table. Not big on paper? Try our online calculator!
A budget can be revised if ever something unexpected comes up or, for example, if you get a raise. But never lose track of your goals! Otherwise, it's not a budget anymore.
Want to make sure you stay on track for your goals? Save your receipts, bills and bank or ATM transaction records, and then check them against your statements and credit card bills.
Setting My Financial Goals
Finding the money for a new game console, a trip to Europe or moving into an apartment is a little more difficult than scrounging up a few bucks to go to the movies. This seven‑step method can help.
Our Seven-Step Method for Setting Financial Goals
Set a goal (if there is more than one goal, put them in order of importance).
Determine how much you need to save.
Set up a schedule.
Write it down—it'll be a lot harder to ignore.
Start saving the weekly amount you decided on.
Check periodically if the goal is still attainable within the set timeframe. If not, correct the problem or adjust the deadline. The goal itself should not change.
Reward yourself as soon as you reach the target amount!
Example of a Goal Table
Goal
Cost
Savings Period
Weekly Savings Required
Take driving lessons
$370
13 weeks
$28.50
Buy a snowboard
$500
40 weeks
$12.50
Get an apartment
$3,000
3 years
$19.25
In this example, the driving lessons are the first priority. Let's assume that the first 13 weeks correspond to your summer job. Since you're earning good money during this period, you can afford to put $60.25 a week towards your goal. Then, from week 14 to 40, you can go decrease this amount to $31.75 a week, and so on. Obviously, if other goals arise along the way, you will have to revise your plan accordingly.
To find out how much you need to save each week or each month to reach your goal, use our How Much to Save to Reach a Savings Goal calculator.
If you need a little help, our Periodic Savings and Investment Plan and the Goal Getter can help you save money little by little, with interest, without a second thought. The money is automatically transferred from your transactional account into your savings account at the frequency of your choice.
Check out the results in the graph below. Not bad, eh?
Amount Accumulated from a Weekly Investment of $10 or $201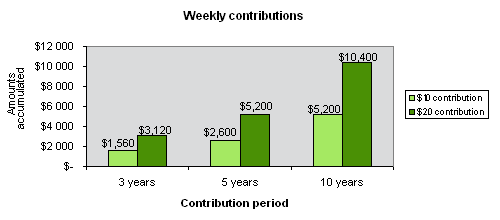 1. Contributions made at the start of the period without payment interruptions or changes during the scheduled period