Client Card
The Laurentian Bank client card is a simple and secure means of accessing your accounts and settling purchases.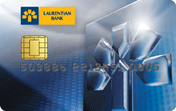 Use it to:
Withdraw cash from your accounts at any Laurentian Bank automatic banking machine, THE EXCHANGE® Network or

Interac

® terminal. You can even use it worldwide at terminals part of the PLUS® network.
Settle your purchases in-store via

Interac

® Direct Payment (debit at the retail store). It's accepted by over 230,000 retailers across Canada!
Definite advantages:
Lesser need to carry large sums of cash
Fewer number of trips to the AMB or at the branch
Less time spent writing cheques
Receipts can be kept for accounting purposes

Interac

® payments will be listed on your monthly statement or in your transaction history via LBC

Direct

online services.
Safety tips:

Choose a four-digit PIN if you often travel abroad or a five-digit PIN for maximum safety.
Choose a PIN that is easy to remember, but difficult to guess.
Memorize your PIN. Never jot it down on paper or keep it close to your client card.
Never lend your card or disclose your PIN.
Mask the keypad when entering your PIN.
Make a habit of checking your account statements or transaction history online. Contact us if you find a discrepancy.
Promptly report a lost or stolen client card. In such situation, reach an advisor without delay at the Telebanking Center at 1 877 522-3863, open 24/7, to cancel your card.




THE EXCHANGE® Network is a registered trademark of Fiserv, Inc., licensed for use in Canada by FICANEX Services Limited Partnership.

Interac e-Transfer® is a registered trademark of Interac Inc, used under licence.

Legal notice
* Some ABM operators and merchants may charge for the use of the terminal. These fees are not Laurentian Bank service fees.