eStatements
Due to COVID-19 and for the sake of your health and safety, ask to receive your next statements electronically. This will allow you to limit physical contact and give you access to your bank statements at home.
Do you usually do your banking online? Then why not receive your statements electronically via epostTM1? Not only will you be reducing your environmental footprint, you'll also enjoy the many benefits of eStatements.
Why switch to eStatements?
Secure
Access your statements and bills securely on LBCDirect. Only account holders can read them and your personal data is protected.
Accessible
View your statements anytime, anywhere. Receive them directly via secure messaging while avoiding mail delays.
Practical
Benefit from secure data storage and PDF copies for seven years. Save on paper and save time by not having to file statements anymore!
Identical layout
Switching over is easy since eStatements are identical to paper statements.
Find out how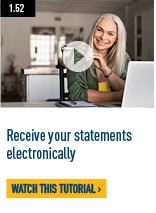 Take action now!
Pre-conditions
Have an LBCDirect account.
If you are not yet registered or if you have lost your password, please contact us at 1-800-252-1846.
epostTM is a trademark of Canada Post Corporation.
Legal notice
1. If you choose electronic delivery of statements, you are opting for electronic delivery of your statements, notices, amendments to agreements, for the products you hold and those you may hold in the future, among the following: bank account, line of credit, credit card, personal loan and mortgage. The change in your communication method will take effect upon your consent.